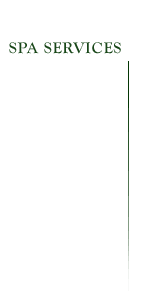 Un Petit-Cure
(Proposal coaching, development, and writing)
We deliver careful attention to detail combined with a deep editorial massage during this truly delightful treatment. Focusing, developing, and revising efforts tighten your project in preparation for pampering and polishing that leaves your book silky and smooth.


Full-body Spirulina Edit
(Developmental editing)

This treatment offers high-concept advice, essential character and plot suggestions, and restores energy to the body of work through substantive revising. During the sessions, enjoy a close working relationship with your editor, including an open dialogue and timely responses.


Polish
(Line-editing and polishing)

This completely invigorating treat is ideal for the writer on the go. Using the Chicago Manual of Style—the house style of choice—a full and final polish gives your project the luster it needs to go out into the world.


Chamomile Exfoliating Scrub
(Marketing research and troubleshooting)

A cleansing treatment that removes dull surface concepts, this customized scrub updates your work and prepares it for future market conditions. Utilizing full media and publishing contacts, this treatment is further enhanced by troubleshooting and niche assessment. Leaves the work smooth, seamless…and bulletproof.

Flat and hourly fees available.